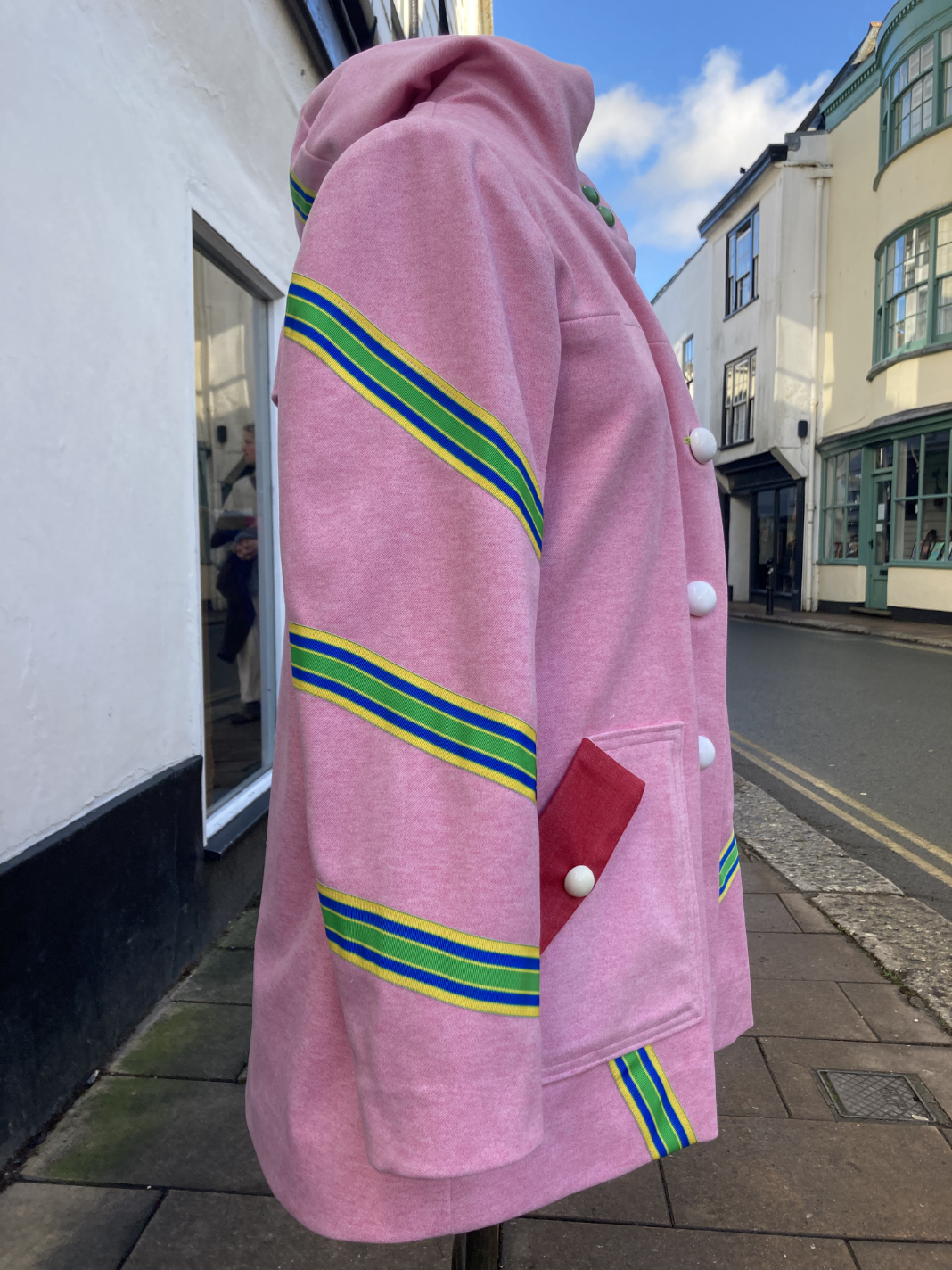 Bess tried out this new Sorona fibre (made from corn) as a spring duffle type coat (or that was the intention – she went a bit off-piste). The fabric is velvety soft with a smooth pile and (hoorah!) is washable 👏👏👏, the pattern is the Closet Core Kelly Anorak hacked to take buttons down the front.
There was no fixed idea about colours, length or fastening whilst this jacket was being made, Bess's husband was away and she took over the kitchen table with her box of tricks and had a good old play. The trimming is a polyester grosgrain that she pinned and repositioned until she had a look that pleased her.
The coat is lined with a super slinky cotton lawn – so slinky Bess thought she'd get away with it on the sleeves but that was a mistake, sooner or later those sleeve linings are going to have to come out and be replaced by regular Venezia so wearing a jumper + wearing the coat does not incur a 10 minute battle of the wills. Cotton, no matter how slinky, is not slinky enough for a coat sleeve. Bess knew this but she tried it anyway. 🙄
At the risk of looking 'like a girl' Bess added grosgrain trim to funky it up somewhat, and used a mix of vintage and new half ball buttons. The only interfacing she used was down the front facing (H0026 viscose), normally the hood facing would be interfaced on the kelly anorak but in this heavy fabric it was not necessary.
The jury is out if this fibre is perfect for outerwear, we are always looking out for alternatives to wool for coats and whilst the softness and washability is an absolute boon it is not as warm as wool, not by a long shot. If you can't wear wool then this would be the next favourite as is far kinder to the environment than any synthetic polyester or acrylic type coating, but to make this a proper coat (to wear in cold weather) you would want to add some interlining to help with the insulation. The bonus of it not being terribly warm is it's not too hot either – so a great coat to wear when in and out of shops and galleries without having to take off and carry.