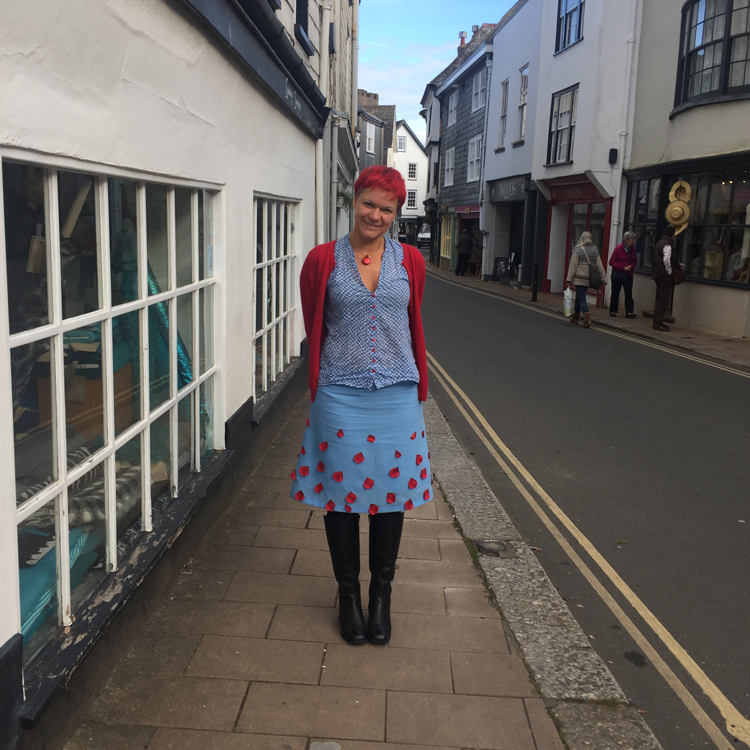 Bess made this skirt on a bit of a whim – the wool challis had been in her stash for some time (if you have ever worn wool challis you will understand why she stashes it). The petals mysteriously turned up in her handbag the morning after a somewhat riotous wedding and have been hoarded ever since. And so the skirt was born, with no idea if A) the wool was washable and B) the petals would leak colour if it was washed.
The skirt was made in an evening, the a-line pattern is an ancient Burda start pattern (3198) that has long since discontinued although Burda 8237 is pretty similar (if you get rid of the waistband), or if you lengthen 6682 (both super easy alterations). The skirt is lined in Venezia and lightweight knit interfacing was used on the facing. Bess did the thing she always tells her customers not to do- she cut the lining the same size as the skirt and it ended up pulling and being too small. The wool challis has quite a lot of give in it, the lining doesn't so you should always cut the lining a fraction bigger to allow for the ease, so the lining had to be chopped out and raised to allow the room. It's a little short but if she doesn't tell anyone they will never know 😉
Finally she attached the petals by first arranging them by eye with pins and then sewing a single line of stitching down the middle of each petal.