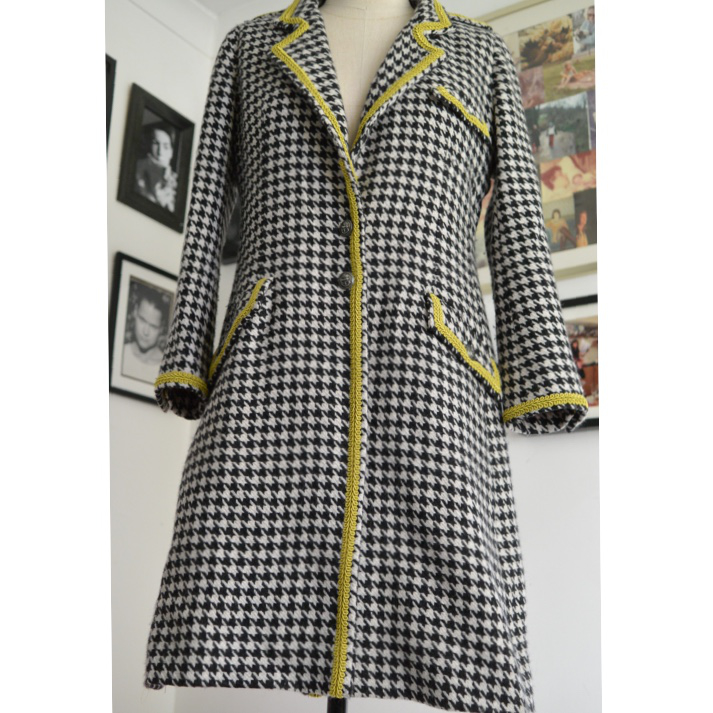 Bess made this black and white tweed up into a coat using a tried and tested Claire Shaeffer Vogue pattern 7467 (now discontinued) which is a jacket pattern so there were a fair few alterations to do. The tweed is very soft and lightweight (it feels like cashmere) so Bess blocked it onto silk crepeline organza to stabilise it. The lining is a mix of a floral print viscose crepe (used at the upper back and pockets), and then a cupro and silk blend heavy habotai for the rest. She had great fun choosing the buttons and loves the little sparkly one on the inside, and hand sewed the gimp braid all the way round on each and every loop (that's dedication, that is).
This coat was made on a weekend retreat, the side effect of intensive sewing like that is the brain does have a habit of disengaging from time to time, hence how the button holes on one of the sleeve vents are going sideways (DOH!). After an initial ohmygodwhatamigoingtodo moment Bess decided to just go with them and now rather likes their asymmetry.
It is a glorious coat to wear, light yet warm and often gets comments. Bess admits now that it was worth the hard work!