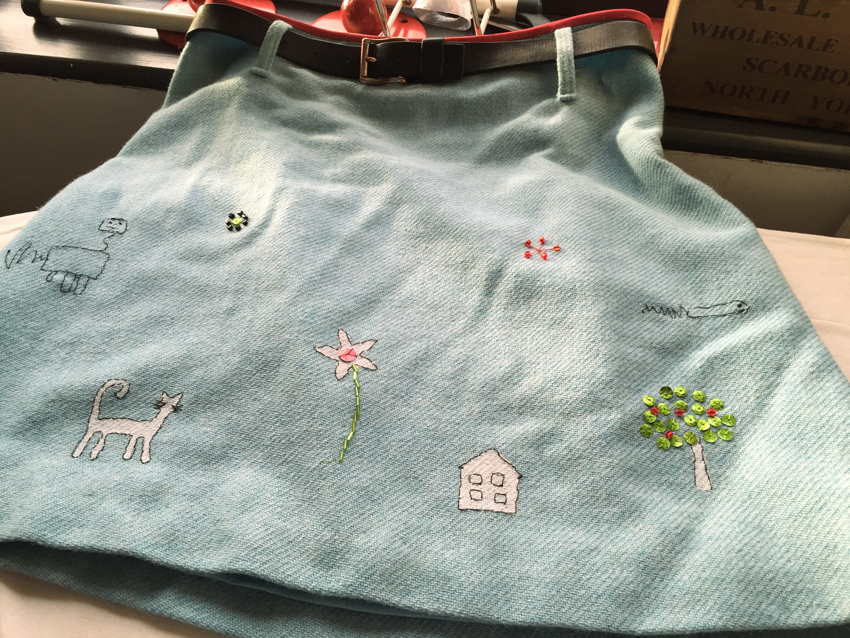 Bess used her 5 and 8 year old niece's fabulous drawings as inspiration for the embellishment on this wool tweed A-Line skirt. First she used white fabric paint and then embroidered using a heavy thread and added beads and sequins. It was all done by hand as the tweed is quite a loose weave and she was concerned machine embroidery would make it too stiff (certainly the kind of embroidery Bess has the patience for!).
It is lined in Venezia lining – turned on the lining with no waistband and bound with an ottoman (heavy) bias binding. Strips of Iron on interfacing tape were used to reinforce the back of the areas where the belt loops go. The concealed zip was moved from the back seam to the side so the back could be cut on the fold also. You rarely get any shaping on the back seam so if you have enough fabric to do this (it invariably takes extra on an a-line skirt) you can without brainache.
Bess is very fickle but this is her absolute favourite skirt at the moment.