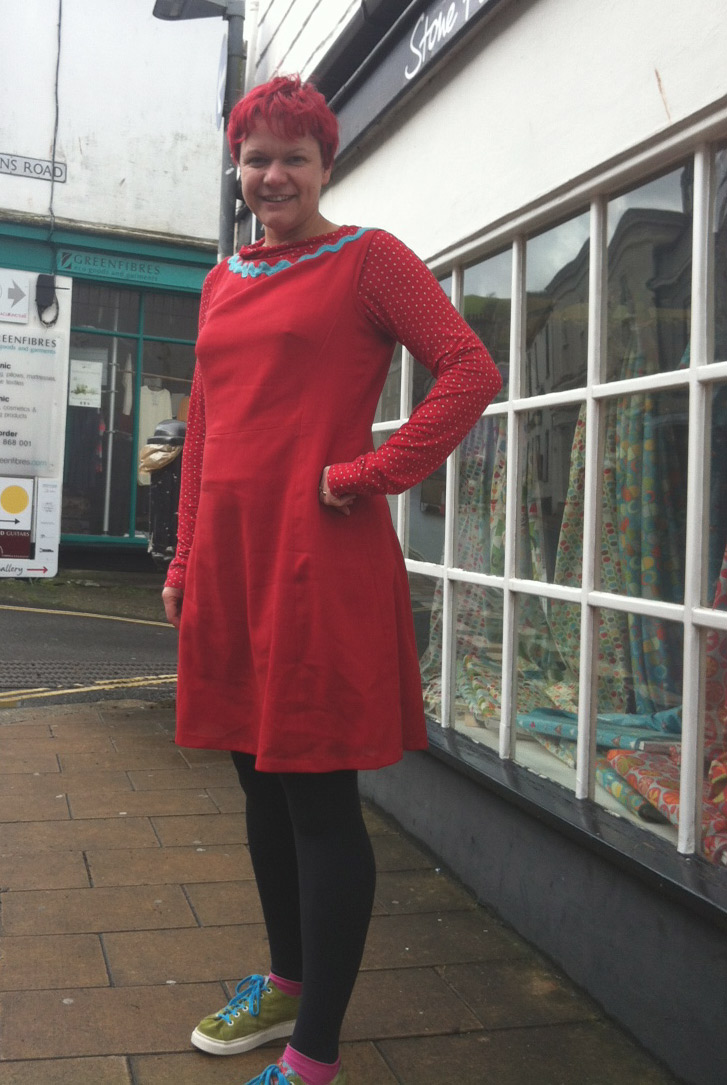 Bess wearing a Laurent Garigue fine red wool panelled dress with giant rickrack sewn around the neck, worn over red and white polka dot printed jersey raglan sleeved t-shirt.
The red wool comes with an organza trim down one selvedge, which Bess dutifully ignored (she did think she *might* use it on the hem, but Bess doesn't feel comfortable in anything resembling a frill), it is possibly criminal to ignore what is essentially the wow factor of the fabric, but she has saved it and may well use it on something else in the future. The wool is fine and gorgeous – a kind of Varuna/Challis, and will be suitable to wear throughout the year.
The giant rickrack needed to be hand sewn so it would lay correctly; a slightly tedious operation (Bess likes to sew QUICKLY), but well worth it.
The dress is lined in a cotton and silk voile, so it is ever so light, but surprisingly warm.
There's no zip-it just chucks over the head.
Fabrics and Notions:
Dress:
Red Laurent Garigue wool with silk organza pleated trim #3513,
Giant turquoise rickrack,
Fuchsia Pink Silk and Cotton voile lining. (Pattern: Bess's own).
T-shirt:
Red polka dot viscose and elastane jersey, Pattern: Marcy Tilton for Vogue #8636 (lengthened sleeves and altered collar)