Welcome to Stone Fabrics
We hope you enjoy browsing our stock and find the experience simple and intuitive. Fabrics are tactile so we recommend you obtain samples before buying, please see our
swatch service
 guide on how to obtain them. You can refine the fabrics using categories, tags and filters. If you need a specific colour or type of fabric you can enter the keyword(s) in the search box.
If you need more information on a fabric, or an alternate photo we are happy to oblige. Please
contact us
with enquiries.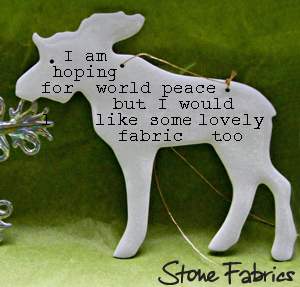 Christmas Opening Hours
Christmas Day: closed
Boxing Day: closed
Wednesday 27th: closed
Thursday 28th: open 09:30 – 17:00
Friday 29th: open 09:30 – 17:00
Saturday 30th: open 09:30 – 17:00
New Year's Day: closed
Tuesday 2nd January onwards: hours as normal
WHAT'S NEW?
New stocks of fabrics, haberdashery and any requisites necessary for your dressmaking needs arrive all the time. Explore the SHOP for all types of dressmaking fabrics and look at the Haberdashery for Linings, Sew-in & Iron-on Interfacings, Trimmings, and Fasteners.
Featured Fabric: Brocade and Jacquard