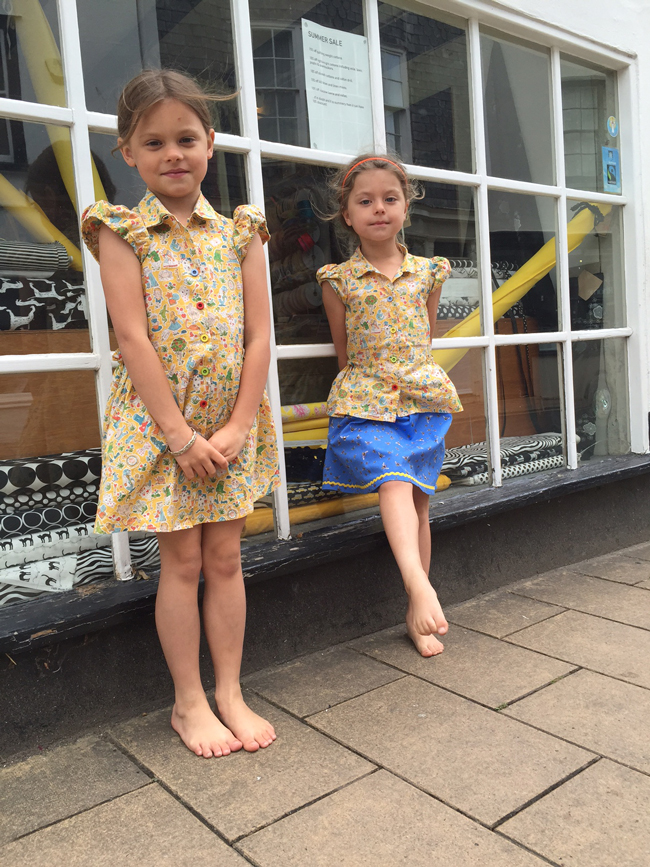 Kitcat and Miaow visiting Granny (Jane) at the shop wearing their matching Liberty tana lawn Alice in Wonderland print dress and shirt. The pattern is Burda 9417 (as seen already for school shirts), they tie in at the back. Jane didn't use any interfacing for the collars, the sleeves puff with elastic in the hem. They both have mismatched coloured buttons.
Miaow (age 5) is wearing a bee print cotton skirt trimmed with rick-rack and gathered onto yellow elastic which SHE MADE HERSELF! We helped a bit, she drove the sewing machine and overlocker with the pedals up on shoe boxes so she could reach. She sat on our lap and helped guide the fabric and shouted STOP! when she was going to drive off the edge. It's probably the most fun you can have with a child without custard pies.
Didn't she do well?!