We have more haberdashery than you can shake a stick at, we are gradually uploading details but if you can't find what you are looking for please ask-we probably have it tucked away!
haberdashery
CONCEALED ZIPS 
Concealed zips (otherwise known as invisible zips) are the No1 choice of zip for a dress, skirt or trouser where the zip inserts into a standard seam and you do not want to make a feature out of it. They give a seamless professional finish. You do not need any special feet, and they are not difficult to put in. The most important thing to remember is you need to put it in before you do the seam below. If you remember that, and to keep right sides together, and the edge of zipper tape along side the edge of your seam you won't get in a tangle. I promise.
invisible zip instruction sheet or see the tutorial HERE.
Sizes available: 8″/20cm, 9″/23cm, 12″/30cm, 16″/41cm, 22″/56cm. Extensive range of colours, Medium and light weight. Prices: £2.40 – £4.30 each
Concealed zips can easily be shortened if necessary. (instructions to do so HERE)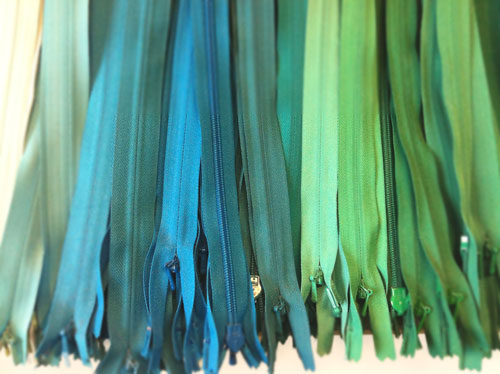 STANDARD ZIPS
Standard zips (otherwise known as dress and skirt zips) are designed to go into both a standard seam and a fly. They are suitable for both the centred method and the lapped method. Instructions HERE
Sizes (in 2″/5cm increments) from 6″/15cm up to 22″/56cm. 20 + colours. Prices: £1.70 – £3.00 each
Dress and Skirt zips can easily be shortened if necessary. (instructions to do so HERE)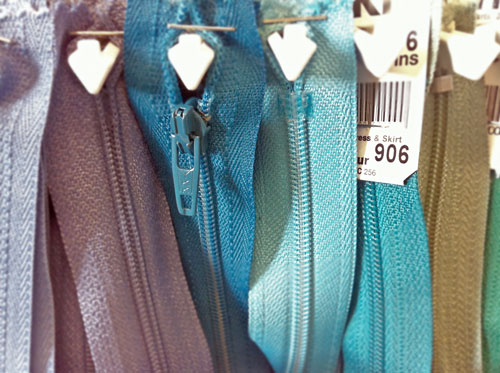 JEANS and METAL TROUSER ZIPS
Metal zips for inserting into a fly, Jeans zips are heavier gauge and usually brass, Trouser zips are lighter and silver coloured (nickel free). See this Sandra Betzina Video Tutorial HERE
Sizes 2″/5cm – 9″/23cm (in 1″ increments). Basic Colours. Prices: Most £3.00 each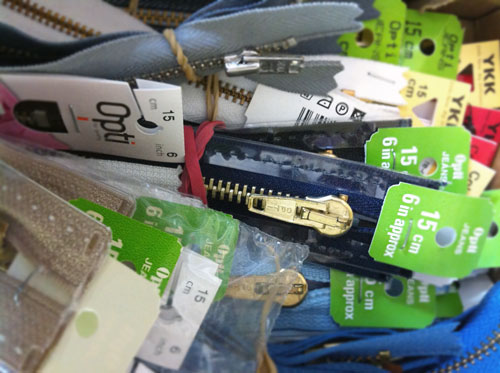 OPEN END and BASQUE ZIPS
Lightweight, elegant, open-end zips designed to go into bodices (also good for children's lightweight jackets and cardigans).
8″/20cm up to 18″/46cm. Basic colours. Prices from £2.50each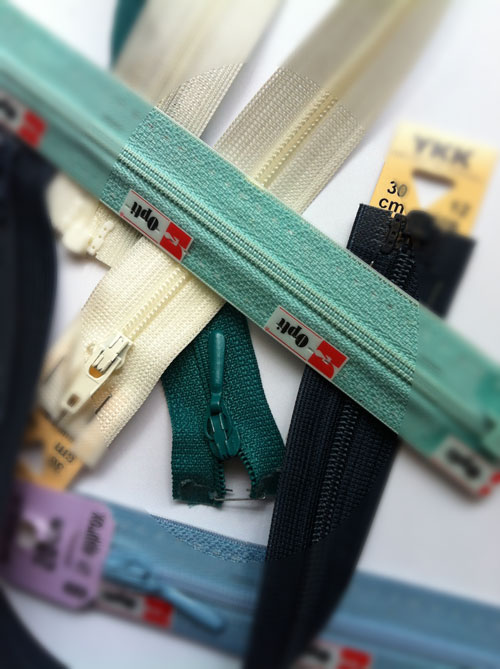 OPEN END JACKET ZIPS
A selection of chunky moulded plastic teeth, coil teeth (like a heavy duty dress and skirt zip) and metal teeth (brass and nickel-free silver coloured). Can be used for outerwear, apparel where you want to make a feature of the zip, or bags.
Also shorter pocket zips (closed end)
Sizes from 5″/12cm – 32″/81cm, Basic colours. From £1.50 each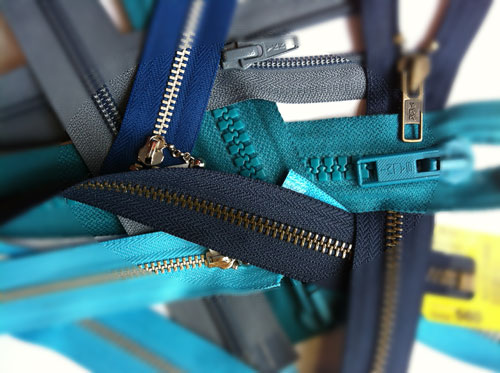 CONTINUOUS ZIPPING
Traditionally used in furnishing applications but can be used in an assortment of creative ways. (see Bess's Twister skirt, for example).
Light and heavy duty, basic colours. From £2.00 p/mt.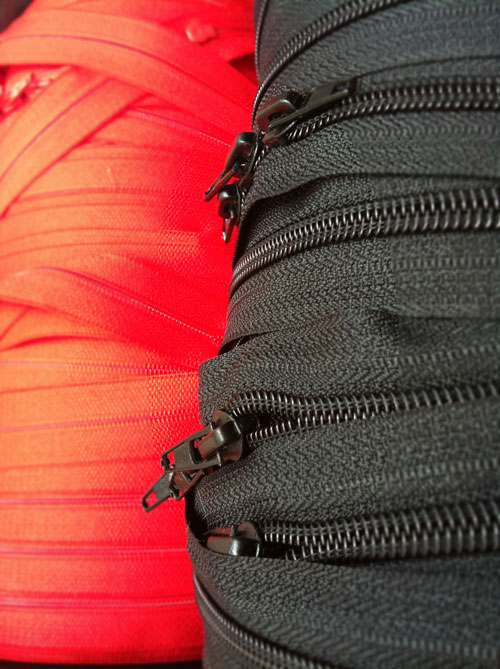 TRIMMINGS
We have a wealth of trimmings for all kinds of projects. We can send samples to match your requirements, just send a swatch for us to match and describe what kind of thing you are looking for.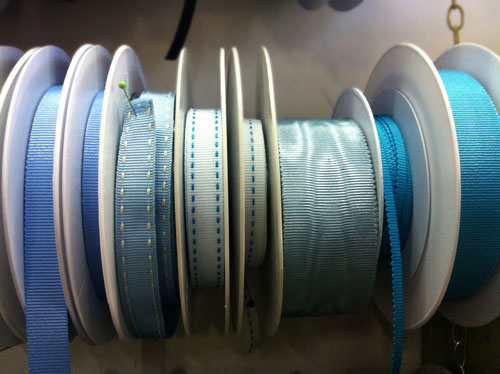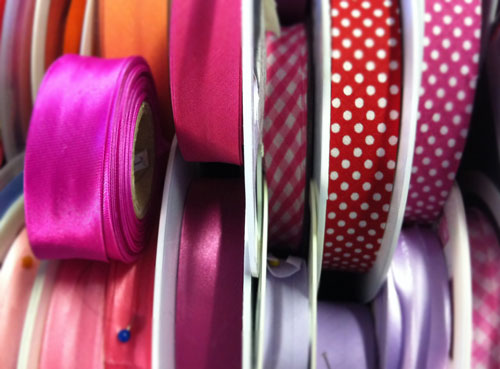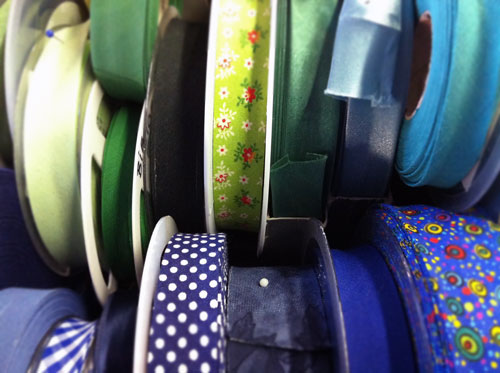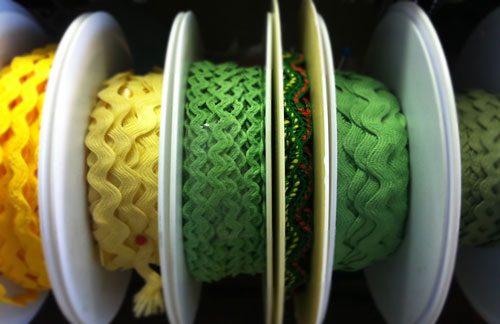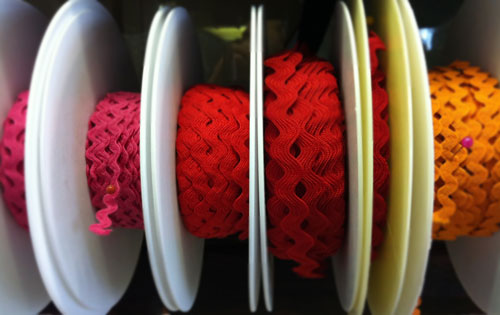 See our full range of bindings HERE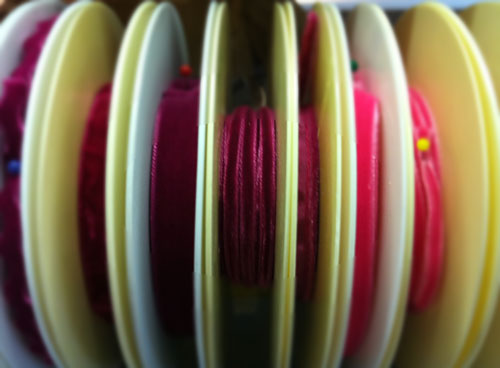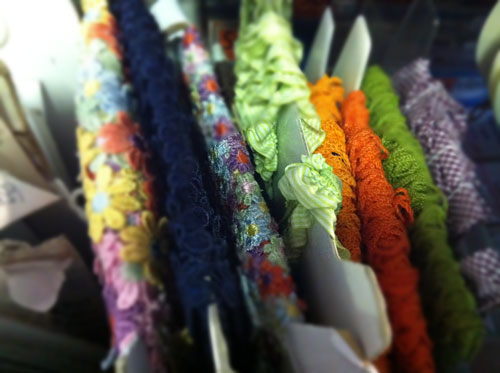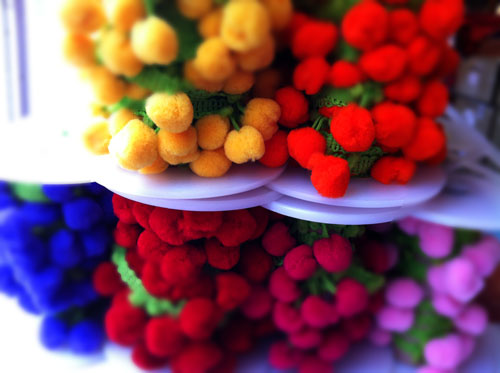 THREADS
We stock hundreds of colours of thread for all your sewing needs. Our all-pupose thread is Gütermann sew-all, we also stock Gütermann cotton, silk (best for decorative and top-stitching), elastic (shirring elastic),  extra strong (button thread) and tacking thread. In addition we stock Moon overlocker threads, Tire (Japanese) silk thread (fine, for sewing silk and delicate fabrics) and invisible thread.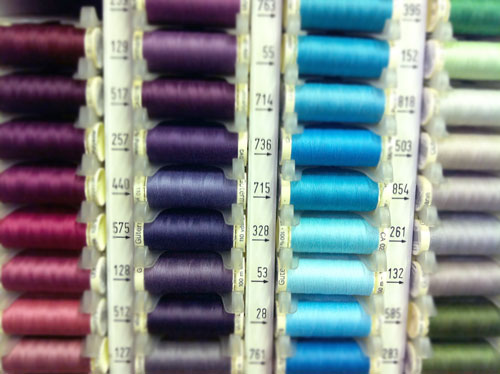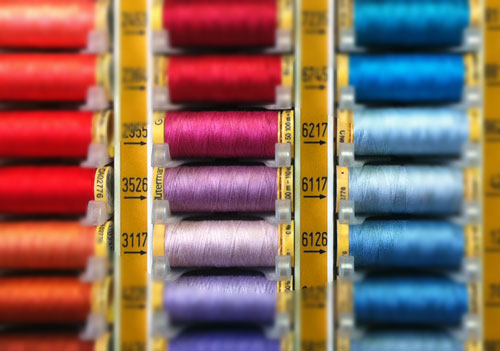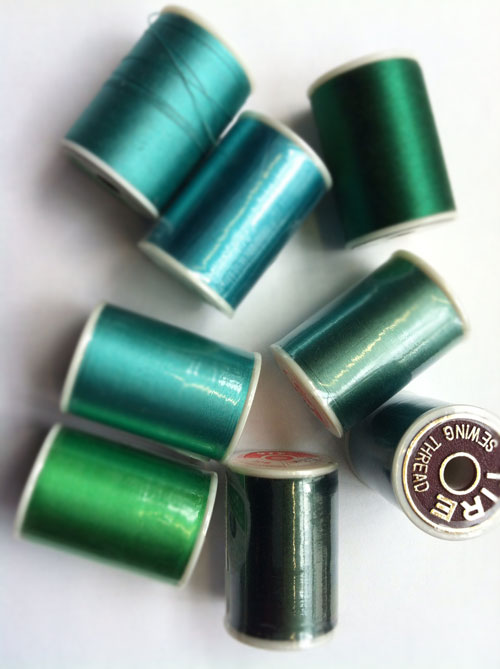 PATTERNS
We stock Vogue, Butterick, McCall's and Burda patterns, and can order Simplicity patterns for you. We also have a few Amy Butler, Heather Bailey, Oliver + S, Tina Givens, Amelia & Me, and Anna Maria patterns.